This is an ongoing project …
We have burial registers and a graveyard plan for the "New Churchyard" or "Churchyard Extension". This acre of land, formerly part of the Rectory Gardens, was added to the churchyard in 1917.
The winter time gives the opportunity to read some of the stones that are hidden by vegetation. Brian, who does the most wonderful job of keeping the churchyard landscape looking good, has recently uncovered some new names.
Sadly there are also a large number of unmarked graves.
Plot 92 Marmaduke Bell  buried 12.013.1900.
Death of the eccentric Marmaduke Bell of Rodborough Fort
Also plot 92 William J. Miller of Wallbridge buried 28.08.1928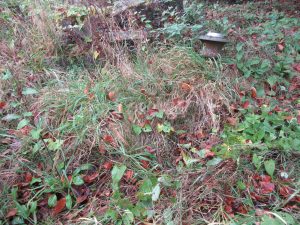 Plot 149 William Butler died 03.07.1911

Plot 182 Alice May LEONARD died Houndscroft 1942, also Caroline LEWIS died Rodborough 1906 and "Mrs" LEWIS died Stonehouse 1908 and Clara MARTIN died  Houndscroft 1961
Plot 190 George GORTON died in Bristol 1944, also Emily Beata GORTON died in Harrogate in 1962.
Plot 275 Edwin Barradine (1831-1912)
Plot 295 (unmarked)
In addition to later burials, here lies George Brown UZZELL (1832-1910) and his wife Ann (1835-1914) of Church House, Church Place, Rodborough. George was a tailor.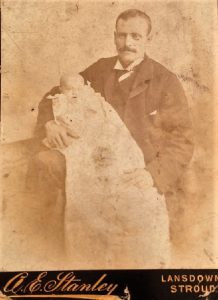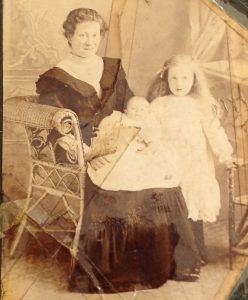 Click to read George Brown Uzzell death, Stroud News 09.12.1910
Plot 315 VICK Albert Thomas (1867-1911)
Of  2 Selsley View, Golden Cross, former caretaker at Rodborough School.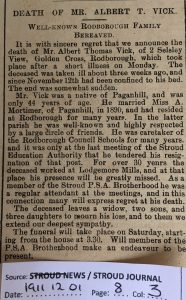 Plot 446 HARRIS
Elizabeth Rose of Rubble Hole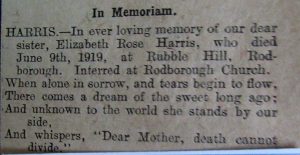 Plot 455 WEAVING
Weaving Joseph William died 22.05.1920
Plot 456 ROBERTS
Caroline Elizabeth (Lizzie) of Kitesnest Lane. Died aged 48.  Employed at Strachans and mother of Muriel, Ivy & Nellie.
Plot 603 SHILHAM
Joan 1938, Harry 1945, Emma 1970
Harry Shilham's son Frank by his first marriage was killed in action in 1915. His name appears on on the WW1 memorial in Rodborough Church.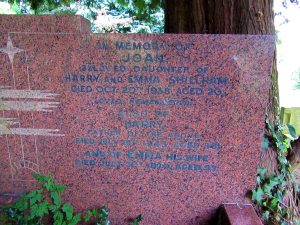 Click to read: Funeral report Harry Shilham, Stroud News 20.07.1945
Plot 615 THOMPSON
Again very overgrown.
From the burial register: Samuel Thompson, died Stroud Hosp, buried 12.10.1938 aged 49, married – plot 615. No other burials recorded in this plot.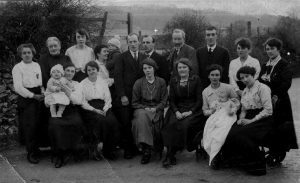 Plot 693 (unmarked) GARDINER
William Gardiner of The Retreat, Butterrow buried 13.03.1944 aged 80. Alice Gardiner same address, buried 24.01.1951 aged 87.On the 1911 census William, Alice & family lived at 3 Retreat, Butterrow. William was an iron founder.
Plot 807 (unmarked) GARDINER
Ernest Harold Gardiner, of The Retreat, Butterrow, bachelor, buried 29.02.1964 aged 57.  Son of Willam & Alice (Plot 693). On the 1911 census he is an iron founder.