Baden-Powell Copse and The Lone Tree and The Moon
By Ian Peters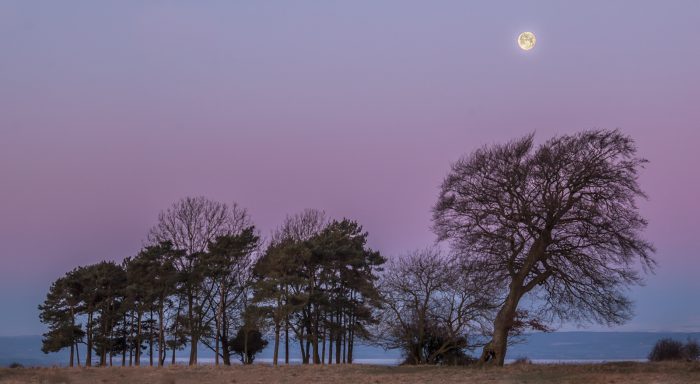 This photograph was taken at the Dawn of our new Decade. Other than the regular walkers, in particular the self styled "Last of the Summer Wine" Gang, the Common was deserted. Oh joy!
One is always told when composing a photograph to look for foreground interest. Well, what better than the Baden-Powell Copse which was planted on Christmas Day 1946, to commemorate the visit to Rodborough on Easter Day 1916 by that Great Man, the Founder of the Scouting Movement and Lady Baden-Powell, founder of the Girl Guides, who was visiting her Rodborough Guides that day? Their visit would of course be overshadowed by the events of the Easter Rising in Ireland, immortalised by WB Yeats in his poem, Easter 1916, ". . . . a terrible beauty is born".
The Lone Tree, that's my name for it anyway, is a beech and like so many of its species is a Cling On, again my description. Someone may correct me here but beeches in copses or woods seem to have a weaker root system than those standing alone and proud, or perhaps the former just subscribe to the Domino Theory? The one near our house is certainly made of stern stock and its cousin here in this picture has long been equal to what the forces of nature have hurled at it and it appears to be defying gravity!
Why though did I take this picture? Very simply, it is a favourite view of mine. "On a clear day" as my Grandfather said as he bid our obedient multitude out of his car completely oblivious to the cacophony of horns from irate drivers behind, to stand in the middle of the road, at the top of a fog enshrouded hill above Scarborough . . . . . "you can see the sea"!
Well, in this instance you can see what I could see, but it's not the sea! As it became lighter I had views of Sugar Loaf by Abergavenny, 37 miles away as the Heron flies and the Black Mountains beyond. In the middle distance there is the moonlit silver thread of the mighty Severn, a glimpse of which might just be seen through the base of the Lone Tree. Above it all and providing a fabulous canopy is the deep purple of the awakening sky, playing host as always to a waning but still significant moon.
Ian Peters 02.01.2010