January 1911
Reporting of a presentation in December 1910 to Sir Alfred Apperly at Dudbridge Mills, following the opening of new weaving sheds and long-service medals awarded to employees.

27th January 1911
Mr G. Ford, foreman of weaving shed retired after 42 yrs at Dudbridge Mills.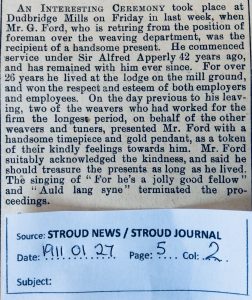 17th February 1911
Curio exhibition and sale of work at Rodborough Tabernacle
10th March 1911
Silver Wedding of Mr & Mrs A.J Turner of Lower Mills Lodge, Dudbridge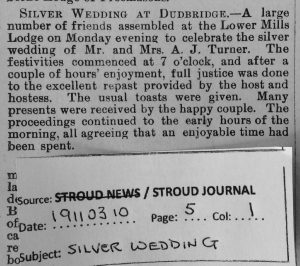 10th March 1911
Butterrow Cricket Club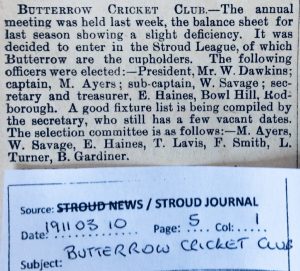 The license of the Golden Fleece on The Butts was transferred to the Prince Albert, signalling the closure of one of the district's beerhouses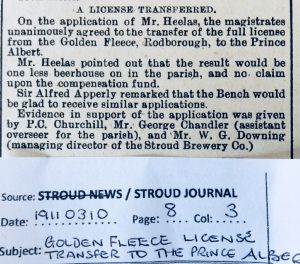 28th April 1911
Rodborough makes its own plans to celebrate the coronation , independent of Stroud.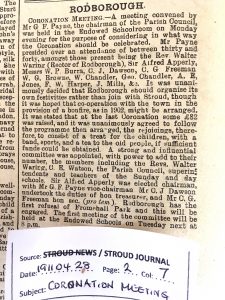 Death of local builder and undertaker William Shaylor of Field Terrace.
2nd June 1911
Jack Chandler was injured in an accident and conveyed to hospital in Sir Alfred Apperly's motor car.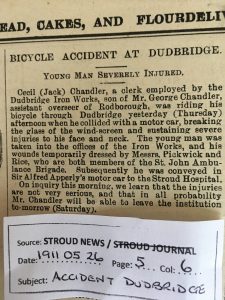 And Walter Hyde left Lightpill Ironworks for Canada.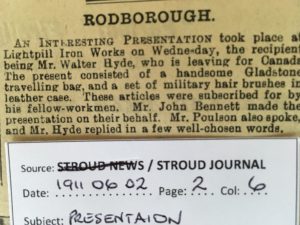 30th June 1911
Lightpill Coronation festivities. (The Coronation of George V took place on 22nd June).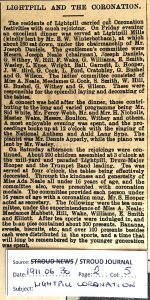 Rodborough celebrated and Rodborough Fort and Church were illuminated.

And a children's treat was held at Fromehall Park.

14th July 1911
Fire at the Wallbridge premises of Albert Ashmead, wheelwright, carpenter and undertaker.

18th August 1911
Dudbridge Preparatory School.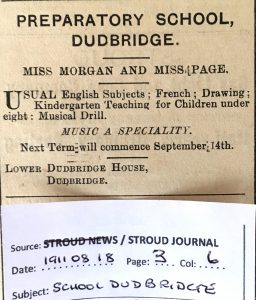 8th September 1911
Dispute over commoners' rights, Rodborough Manor and responses – William Bathe.
13th October 1911
Near-drowning at Dudbridge Locks – goodness, was the boy OK in the longer term?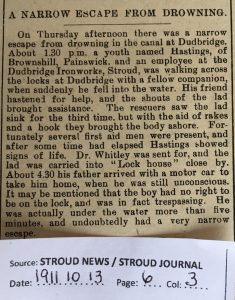 24th November 1911
Dorothy Payne's dog was found without a collar at The Butts.