This looks like the style of the old bus which was routed along Kingscourt Lane in 1940s before the days when it was diverted to include the main part of Rodborough and the new estate through Court Way, Chandos Rd., etc.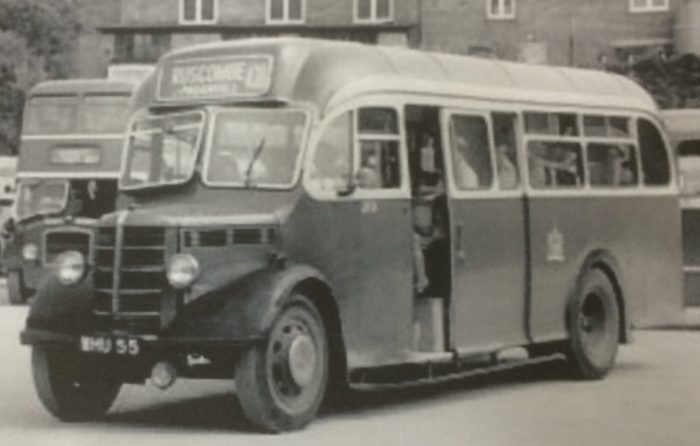 Photo and bus details with thanks to the Stroud Vintage Transport and Engine Club at Stroud Local History Society's exhibition 2019.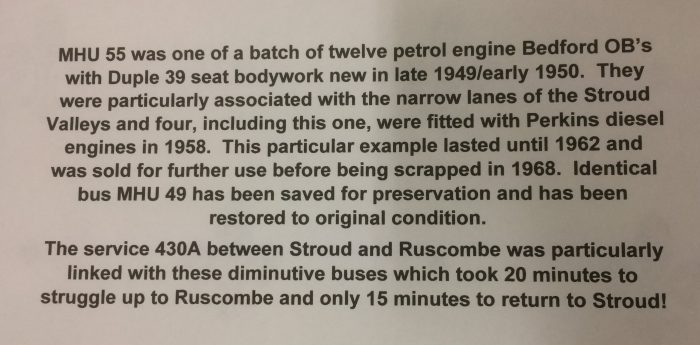 The bus left from, and returned to, the Railway Station yard and came up the Bath Road with stops by the Cotswold Stores (now Samms), Golden Cross (bottom of Walkley Hill), The Court, Chapel Lane, Gastrells top by shop, terminating at top of Kitesnest Lane as now.
Our schoolteacher, Miss Wilkinson, and shopkeeper, Mrs. Roper, arrived on the first bus which left Stroud about 7.30 a.m. On the return journey it was used by children going to the Downfield Grammar and Technical schools who alighted at the Cotswold Stores and walked via Bath Rd., through Lodgemore, up Murder Lane, across Cainscross Rd. and up Beard's Lane.
In addition to the bus driver, there was always a bus conductor to collect the fares and issue the tickets from his machine. The adult fare to Stroud was probably 2d. or 3d, with half-fare for children. On Saturday mornings the village bus was always crowded with local children of varied ages – without adult supervision we went to see special films at the Gaumont Cinema in London Road – Saturday Morning Pictures.
One of those little buses was memorable because it had slatted wooden seats which vibrated violently when it was stationary with the engine still running! One bus had a metal ladder on the rear end and a lad who lived at the top of Gastrells' hill sometimes used it to hitch a free ride along to Kingscourt!
Maureen Arthur 2019.