Summoned from the Hillside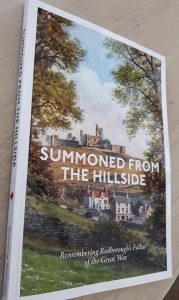 Following further demand we order a small new stock in December 2021 and have a few copies left at £15.
Outlining life in Rodborough before the Great War, its effects on the community and detailed profiles of those who lost their lives and how Rodborough commemorated them. The book is lavishly illustrated with black & white photos depicting a bygone era.
A4 sized with 239 pages.
The Stroud Valleys in the Great War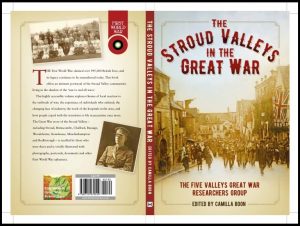 We are honoured to have had our chapters on Rodborough and Eugene Paul Bennett V.C. of Rodborough included in this new publication, compiled by the Five Valleys Great War Researchers Group.
The book gives a good overview of the Stroud area in 1914-1919 and our Rodborough contribution delves into the fortitude,  tragedy and sometimes humour displayed by  individuals and our community as they coped with a changing world.
A very readable local gem of social history.
"Meticulously researched, informative and quite often – perhaps surprisingly- quite amusing…" Howard Beard
Copies are available through Remembering Rodborough at £10 (RRP £12.99)