Rodborough Scout group was formed at Rodborough Tabernacle in 1909 by Rev. Ernest Watson, assisted by Fred Daniels and Frank Shaylor. One of the first Scouts was Mr Fred Hatton who was guest of honour at the 80th birthday celebrations in 1989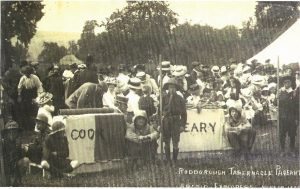 A meeting for younger boys began in 1914 and in 1916 became the first registered Rodborough Cub Pack.
In 1918 Charles Knee, Assistant Scoutmaster died of wounds in the First World War.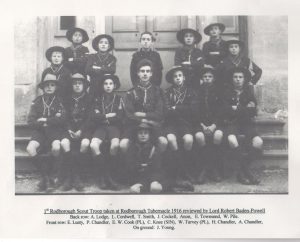 1920s
The Scout Master was Mr Cyril Taylor and his ASM was Mr Harold Haines. The summer camp was held at Cranham.
1930s
Mr Harold Gazzard became Scout Master of two patrols, Bulldogs and Peewits, later Mr Haines became Scout Master.
Cub Masters were Miss Nellie Watts and Miss Daisy Smith and Mr Wally Cawthorne, a former Patrol Leader became Assistant.
The GSM was Rev. Watson.
The Wolf Cub Pack was led by Mr Mervyn Short with Mr Lionel Carter assisting.
The Re Lawrence Miller formed an extra Scout troop at The Endowed School.
Summer camps were held in 1935 at Porlock, Somerset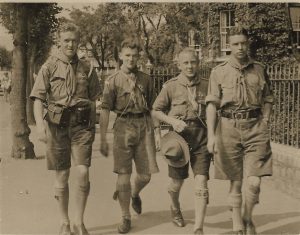 1936 at Westward Ho, Devon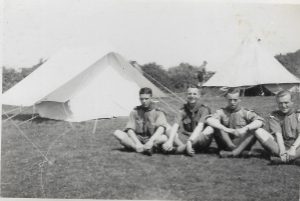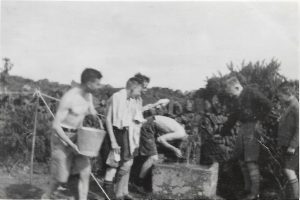 and 1937 at Weymouth, Dorset.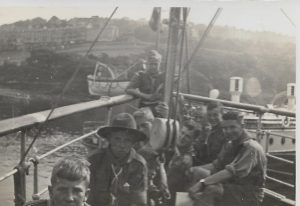 In 1937 the Rover Den was built and opened by Colonel W.F. Walton HQ Commissioner for the Rover Scouts. Mr Lionel Daniels became the Rover leader.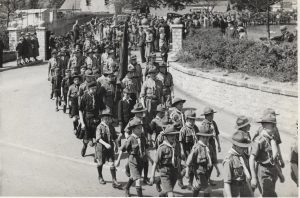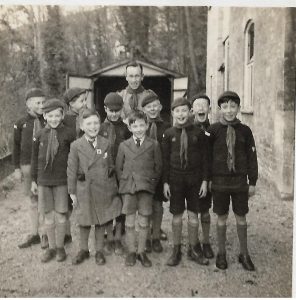 1939-45 Second World War
Some Rover Scouts joined the Armed Forces, others joined the District Scout Air Raid Precaution / Messenger Service centred at the Rover Den.
During the 1940s Eric & Lionel Daniels led efforts to reestablish the Group back to strength. Rev. Watson died in 1942.
After WW2
By 1946 there was a mixed troop of Scouts and Sea Scouts. the latter led by Mr K. Jarvis (Tarka) and Mr Norman Blandford became ASM.
1947 camp at Youlbury, Oxford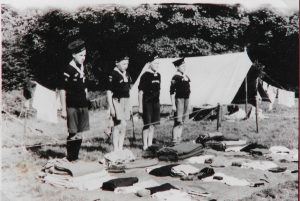 In 1948 a small plantation of trees was was placed on Rodborough Common to mark the visit in 1915 of Lord and Lady Baden-Powell. It is marked by a brass plaque.
1950s
The Group now known as 2nd Rodborough Scouts met under the Little Chapel in the former stables, above had been the coach house.
Lionel Daniels tragically died in a car accident in 1957. He had been head of the family firm T.H & J. Daniels and his death was a great loss to the district.
Eric (Skip) Daniels became GSL assisted by Bob Simmons, Tom Tanner and Kevin Shillham and with Cubs by Peter Howe.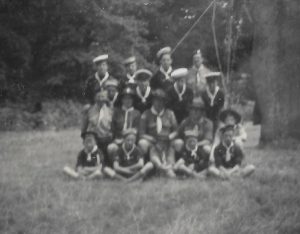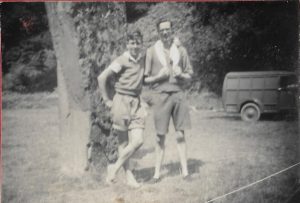 1960s
Eric Daniels continued as GSL but tragically he too died in another car accident. For a time Peter Howe and John Marks stepped into the breach, with cubs led by Mr D.J. Holford and later Mrs Marks. Eventually Mr Wally Cawthorne who had been an ADC for Scouts was called upon to become Rodborough's GSL.
1970s
Mr Wakefield took over as GSL, with Mr W (Prof) Alltimes leading the Scouts with Mike swayne as ASL.
In 1972 Len Scarrot became GSL and Ernie Major became the Scout leader. Due to the baby boom of the 60s and new housing in the parish numbers swelled. There was a full Scout Troop and two Cub Packs, one using the Rover Den.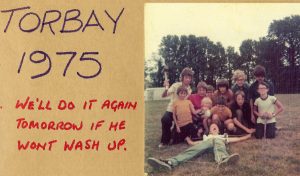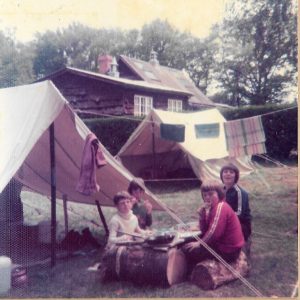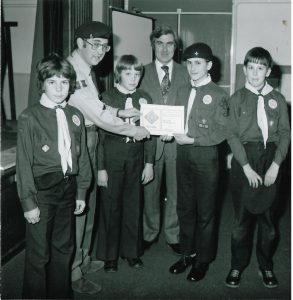 Regular summer camps were held at Youlbury, near Oxford, Southampton, Warwickshire and elsewhere.