1901
Rodborough's new school opened on Rodborough Hill. It replaced a school held at 'The Old Endowed School' alongside Rodborough Parish Church, which had been condemned by School inspectors on account of unsuitable sanitary arrangements and insufficient accommodation. It was recalled that the children there used the highway as a playground and were drinking water pumped from a well.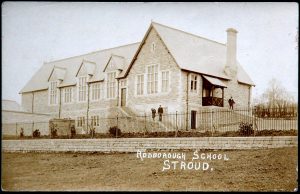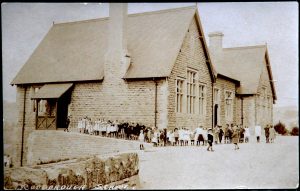 1920s
Captain Forster, headmaster is described in the memoir of Les Young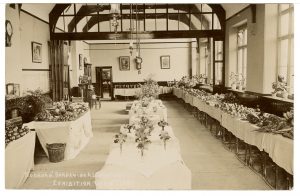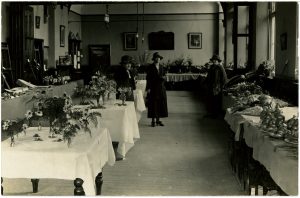 During the First World War, to aid food economy, the school had housed a fruit evaporator, under the supervision of Rodborough's Food Committee. At this time a show of produce began, that continued as an annual event in the post-war years. The photos show the school building in use for this in the 1920s.
1950s
– Rodborough Infants School Past events
1949-62
Our recent displays of old school photos have prompted some discussion about what happened to the primary age children from Rodborough School during the period that it became a secondary school.
The school apparently ceased to be a primary school in 1949. The log book records the reopening on 26th April 1951 as a Rodborough Secondary School, though it has been suggested that this may have been phased in from 1949. However because of parental protests, a class of infants remained on site.
The log book records that junior primary children from Rodborough now attended Castle Street and Church Street schools. Edwin Benton recalls;
'When I left Rodborough school when it closed I went to Church St which was a boys school. Most of the girls went to the girls' school in Stroud. We all did not go to the Stroud schools. Some of my class went to Kingscourt school some of those on Dudbridge Hill went to Cainscross and I seem to recollect one lad went to Woodchester, so we were dispersed around the local schools."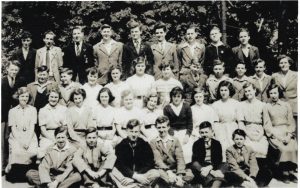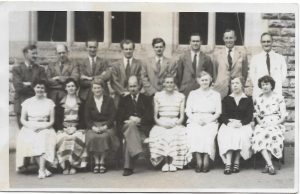 Back row; X, Mr Powell, Mr Clark, Mr James, Mr Smith, Mr Allen, Mr Carlyon, Mr Dee
Front row: X, X, Mrs Hunt (sec), Mr Loosley (head), Mrs Shepherd, Miss  Butler, Miss Cam, X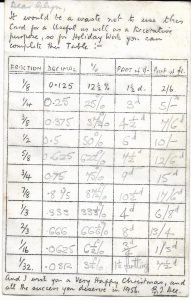 Rodborough reopened as a primary school in September 1962.