Face Frank Leslie
1918 absent voter (Frome Avenue)
Face Harold George
1918 absent voter (Frome Avenue)
Facy H.G
Listed as serving Stroud News 1915
Fawkes George Edward
1918 absent voter (Bath Rd)
Feltham Ronald Frank
1918 absent voter (Bath Rd)
Field A.J
Serving 5th Glos Rgt 1914-15 (Stroud and The Great War, published by Stroud News 1920)
Field J.F
Filer Sidney William
Standfield, Rodborough. Territorial Force 1920 previous service and wounds.
Fisher Walter Amos
Butterrow. Territorial Force. Attested Aug 1915. Physically unfit ? due to previous military service
 Fitch Cecil Alexander Gordom
1918 absent voter (Rodborough Heights)
Fletcher George
Kingscourt. Enlisted May 1915 (Stroud News)
Gilbert George … 1918 absent voter (Kingscourtl)
 Fletcher Frederick
Discharged 5th Btn Glos Rgt March 1916. Medically unfit. Aged 31 6 ft tall.
Fletcher Hubert
Serving 5th Glos Rgt 1914-15 (Stroud and The Great War, published by Stroud News 1920)
 Fletcher R
Listed as serving Stroud News 1915
(Reginald John 1918 absent voter (Mount Vernon))
Flight Samuel
8th Btn Wiltshire Rgt. former ag labourer of 2 Wallbridge Cotts, Bath Rd.
Stroud News 7/1/1916 -Fatalities and disasters 1915
Frederick Flight aged 3years, the little son of a soldier was killed in Bath Rd, Stroud, as a result of being knocked down by a motor car belonging to Mr M.H. Grist and driven by Mr Thomas King " accidental death". No blame attached to the driver…
Ford Josephine Frances
1875-1965. Brought up at The Achers (now Achards) Rodborough, Josephine trained as a nurse at Gloucester General Infirmary and later lived in Cirencester. She served with the British Red Cross Society & Order of St. John. Remarkably, while Matron at a military hospital at Rouen in France in 1917, she had the sad task of writing to the parents of Kingscourt soldier, Ernest Chandler to inform them of his death. In the letter she mentioned her local connection and that her father had had a business at Lightpill (Robert Jowlings and Co, cloth manufacture, Lightpill Mill. William J Ford retired on account of ill health June 1894).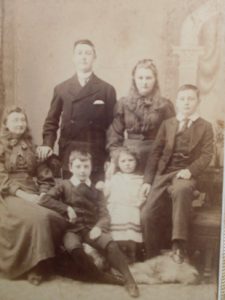 She was awarded the British War Medal and the Victory Medal.
Frape Percy
1918 absent voter (Rooksmoor)
Frith Reginald Walter Cokayne
1918 absent voter (Coronation Rd)
Fryer John Benjamin
1918 absent voter (Bath Rd)
Furley Albert Edward
1918 absent voter (The Butts)
Furley Oliver
Enlisted – AVC- Stroud Journal 16/04/1915
Fussell Arthur Wills
1918 absent voter (Bath Rd)