Packer Horace Ewart (War Memorial)
Palmer Reginald
Papps George
1918 absent voter (Little London)
Parke Albert John
1918 absent voter (Bath Rd)
Parnell Reginald Charles
1918 absent voter (Rooksmoor)
Parsons Henydela Coir
1918 absent voter (Frome Park Rd)
Payne Walter Edward
1918 absent voter (Spillmans Rd)
Payne Wilfred
Peacey A
Peacey Austin Hewlett
1918 absent voter (Spillmans Rd)
Pentecost Ernest Charles
1918 absent voter (Bath Rd)
Philpotts Arthur Ernest
1918 absent voter (South Lightpill)
Philpotts Harry Stephen
1918 absent voter (Butterrow)
Killed 1918. On Brimscombe War Memorial.
Pick Percy W
Pick Richard Alfonso
1918 absent voter (Bath Rd)
Pike Charles
Pile James Alfred
Painter & decorator, was severely wounded and shell-shocked and lost his sight and memory. His youngest brother Leonard Pile was killed in France in 1917.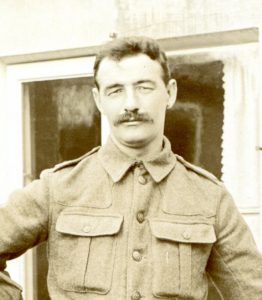 Platt
Poole Adolphus John
1918 absent voter (Spillmans Pitch)
Powell Albert Stanley
1918 absent voter (Spillmans Pitch)
Powell Gilbert
Powell George
1918 absent voter (Butterrow)
Powell George Woodman
His brother Samuel Huntley Powell was killed in the war. George was gassed in France. Later he became a Lieutenant in the RAF Armarment School. When he married in 1919, he was a director of the family business at Wallbridge Mill and made his new home at Fort William, Butterrow.
Powell H.C
Powell Percy
Mentioned in Cheltenham Chronicle and Gloucestershire Graphic 25.03.1916. Driver A.S.C. Invalided from France with severe frostbite.
Powell William
1918 absent voter (Butterrow)
Pratley William George
1918 absent voter (Bagpath)
Preddy Herbert George
Price E.K
Served in Durham Light Infantry is listed on the Holloway Bros (clothing manufacturers, Stroud) war memorial.
Stroud Journal 10/01/1919 Of the Butts, Rodborough … E.K. is home now after vile times as a prisoner of war. First of all he was in the M.T's in Birmingham, and was driving the Colonel's car, but later in the line was taken prisoner on May 27th at the Marne. Six of them later made a dash for liberty and got half a dozen miles away, but hounds having been put on to trace them, they were got back and terribly punished. Many were so fed up they tried to get away daily, and many were thus shot out of hand. Contrary to all of war's laws they were employed behind the German lines for six weeks, after which they were sent down the coalmines on a bowl of cabbage soup and a slice of so-called bread, on which to do an 8 hour shift. The manager of that part of the mine is called a 'Stiger' and his name was Harmann and was an absolute hog, who always carried a club and knocked the men about wholesale. Some of the Frenchmen were killed there. While in the pit however he met one decent German, a man who was too old for military service, and who before the war had been working in Manchester. He was a great pal to Price, and to his help the latter really owes the fact that he survived the privations and vileness of his life there. It is so seldom that one hears of a decent German that we take care to record this single instance. Even then we have to take care to point out that this one instance had been civilised to some extent by his residence in Manchester.
Price H.W
Stroud Journal 14/02/1919 Son of Mrs & Mrs JW Price of The Boulevard, Rodborough, and of the 17th Field Coy. 27 Div., writes: "We have been a few days now in Batoum, a black seaport and we are getting plenty of bully and biscuit…We are now billeted in some schools…We spent Christmas on a quay unloading, but are better off now". Later from Batoum again he says: "Have been in hospital with flu. We have lost a lot of men with it lately, as the majority of the division have had so much malaria in Macedonia…The above has been wounded twice, is a sapper and has been in the army four years. Before Cambrai he had the nasty experience of being 37 days without once coming out of the front line trenches
Price William Albert
Stroud Journal 10/01/1919 One local lad we have often mentioned for success in his army career is Capt. W.A.W.Price, of The Butts, Rodborough. His brother E.K….
Pritchard Ewart William
1918 absent voter (Kingscourt)
Pritchard Frederick
1918 absent voter (2 Merton Villas)
Pritchard Harry George
1918 absent voter (Butterrow)
Pritchard Lewin James
1918 absent voter (Rubble Hole)
Pritchard Walter
1918 absent voter (North Lightpill)
Pullen E.H
Purnell A
Puttick Walter Leonard
1918 absent voter (Kitngscourt)